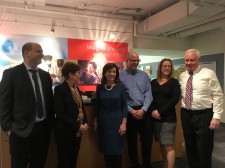 Brooklyn, NY , March 16, 2017 (Newswire.com) - New York's Lieutenant Governor Kathy Hochul paid a visit to BioBAT, the New York Science and Technology Center at the Brooklyn Army Terminal. The Lieutenant Governor was joined by State Senator Martin J. Golden, New York City Council Member Carlos Menchaca, and representatives from the Empire State Development Corporation (ESD) on a tour of the research facility.
BioBAT would never be possible without the state and city's commitment to life science research and development. "I have seen first-hand in my travels across every corner of the state, how investment in innovation and technology is critical to a 21st century economy," said Lieutenant Governor Kathy Hochul. "The biotech incubator BioBAT at the Brooklyn Army Terminal is a perfect example of how government, business, and academia can join forces to accomplish great things."
BioBAT, located in Sunset Park, is a not-for-profit which provides much needed affordable, state-of-the-art research and manufacturing space for biotechnology/technology companies.
"Sunset Park has a bright manufacturing future," said New York City Council Member, Carlos Menchaca. "BioBAT exemplifies smart investment in manufacturing capacity. Its success will be measured in biotech innovation and local job growth. When government, private enterprise, and academic institutions work together they create the environment for the long-term economic success Sunset Park needs."
BioBAT's President Dr. Eva Cramer greeted the visitors and led them on a walk-through of the science and technology center space. The group met with three of BioBAT's tenants: the International AIDS Vaccine Initiative (IAVI) and Avatar Biotechnologies, both at the forefront of vaccine development, and Modern Meadow, a biofabrication company developing leather without harming animals. The group toured the sophisticated laboratory facilities, and viewed samples of Modern Meadow's lab-grown leather.
"It was an honor to join Lieutenant Governor Kathleen Hochul as we toured the BioBAT facility at the Brooklyn Army Terminal," said Senator Martin J. Golden. "BioBAT is one of New York State's largest commercial life-science centers dedicated to biotech expansion. Working with my colleges, I secured $54 million in state funds to make BioBAT a reality, and I thank the governor for making commercial life sciences such a priority in his proposed 2018 budget. The Lieutenant Governor and I are committed to all we can to ensure BioBAT's future success, which will mean many hundreds of top-flight jobs for Brooklyn, and many advances for public health in the years to come."
About BioBAT 
BioBAT Inc. is a not-for-profit organization established to develop affordable, state-of-the art biotechnology/technology research and manufacturing space in New York City BioBAT is a joint venture of the New York City Economic Development Corporation and the Research Foundation for the State University on behalf of Downstate Medical Center. For more information, visit www.biobat.nyc.
Source: BioBAT
Share: