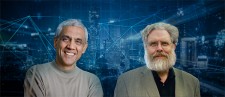 Expected to discuss intersection of big data, artificial intelligence and synthetic biology at SynBioBeta SF 2017
SAN FRANCISCO, September 11, 2017 (Newswire.com) - SynBioBeta, the world's leading community of entrepreneurs, investors, and practitioners devoted to the responsible growth of synthetic biology, today announced technology pioneers George Church and Vinod Khosla will take the stage at the 6th Annual SynBioBeta SF 2017 Conference. The Conference will be held at the Mission Bay Conference Center, in San Francisco, Oct. 3 to Oct. 5, 2017.
"We're excited to bring together one of the founders of synthetic biology with a true pioneer in the microprocessor industry for an epic fireside chat," said John Cumbers, founder and CEO, SynBioBeta. "I'm looking forward to hearing lessons from 30 years in Silicon Valley, plus insights on how synthetic biology will be impacting all industries over the next 30 years. Conference attendees are sure to enjoy this once-in-a-lifetime event."
George Church, Ph.D., Professor of Genetics at Harvard Medical School, is widely recognized for his innovative contributions to genomic science and his many pioneering contributions to chemistry and biomedicine. In 1984, he developed the first direct genomic sequencing method, which resulted in the first commercial genome sequence (the human pathogen, H. pylori). Dr. Church invented the broadly applied concepts of molecular multiplexing and tags, homologous recombination methods, and array DNA synthesizers. He is the co-author with Ed Regis of Regenesis, a book that explores the possibilities of the field of synthetic biology.
Khosla is an entrepreneur, investor, and technologist. He co-founded the first significant computer-aided design system for electrical engineers and founded Sun Microsystems. A Silicon Valley legend, he's been involved in semiconductor, computer networking and ad-based search companies, among other ventures. At Khosla Ventures, he focuses on both for-profit and social impact investments. He recently joined Silicon Valley investors Sam Altman, Max Levchin, Matt Ocko, Peter Thiel, Eric Schmidt in their pivots to investing in the synthetic biology industry.
Making Biology Easier to Engineer
SynBioBeta SF 2017 brings together the technology and biology communities who are on a mission to "Make Biology Easier to Engineer."  The conference will foster a discussion between industry-thought leaders and entrepreneurs.
SynBioBeta SF 2017 will feature more than 50 industry speakers. Key themes include biomaterials and consumer products, cell factories for biopharmaceuticals, the intersection between big data, artificial intelligence and biology, innovations for ocean sustainability, the future of DNA synthesis, investment opportunities, and bio strategy as a competitive differentiator.
About SynBioBeta. SynBioBeta is the leading community of entrepreneurs, investors, policy makers and enthusiasts devoted to the responsible growth of the synthetic biology field. The company hosts international synthetic biology conferences and events that bring synthetic biology community together several times each year, giving anyone the opportunity to meet with the bright minds building and shaping the bioeconomy. For more information, visit www.synbiobeta.com.
SynBioBeta also offers a highly-specialized weekly industry e-digest, news blog and educational courses in addition to providing companies in the industry with opportunities for advertising, exhibition, and sponsorships for promotion. To subscribe visit: www.synbiobeta.com
For Media Inquiries, please contact Jonathan O'Leary BWK New York, +1 929-341-0421 synbiobeta@bwkny.com, or visit our website at www.synbiobeta.com.
Source: SynBioBeta
Share: